EVA Traction Pad
Product categories of EVA Traction Pad, we are specialized manufacturers from China, Eva Traction Pad, Non-Skip Traction Pad suppliers/factory, wholesale high-quality products of Traction Pad R & D and manufacturing, we have the perfect after-sales service and technical support. Look forward to your cooperation!
China EVA Traction Pad Suppliers
EVA Traction Pad is the tail pad to be sticked on the surfboard. It comes with center arch and kick tail, which allow surfers to control the direction and stability when surfing in the sea.
The design of Surfboard Traction Pad can be in one piece, two pieces, or three pieces basically. The standard the classical texture for Traction Pad would be diamond like texture, as it can provide the stronger grip among all of them.

There are two ways to make the logo on the traction pad, one is PVC logo, the other one is EVA color connect logo.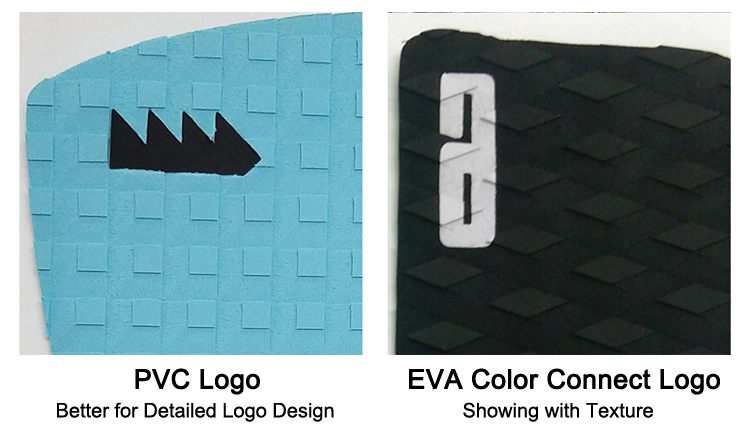 PVC logo is a very simple idea, just make a PVC logo based on the design and insert it into the traction pad. One advantage of PVC logo is that it can be more detailed and complicated than the EVA color connect logo. And it can be repeatly used on other pads without any more setup tooling charge.
The EVA color connect logo is made along with the pad itself. Unlike the PVC logo, it is also EVA material same as pad, and also shows with the texture. The design of this logo can not be too detailed and small, it needs to be larger and simpler so that we can use the different color EVA material to connect them.